Tensions and tragedy continue to spiral in the Gaza Strip as hospitals, brimming to capacity with wounded citizens, send out desperate cries for help amidst dwindling supplies and an impending ground offensive by Israeli forces. This newest chapter in the conflict between Israel and Hamas has precipitated not only a severe military confrontation but a humanitarian crisis that echoes across the besieged coastal enclave.
Thank you for reading this post, don't forget to subscribe!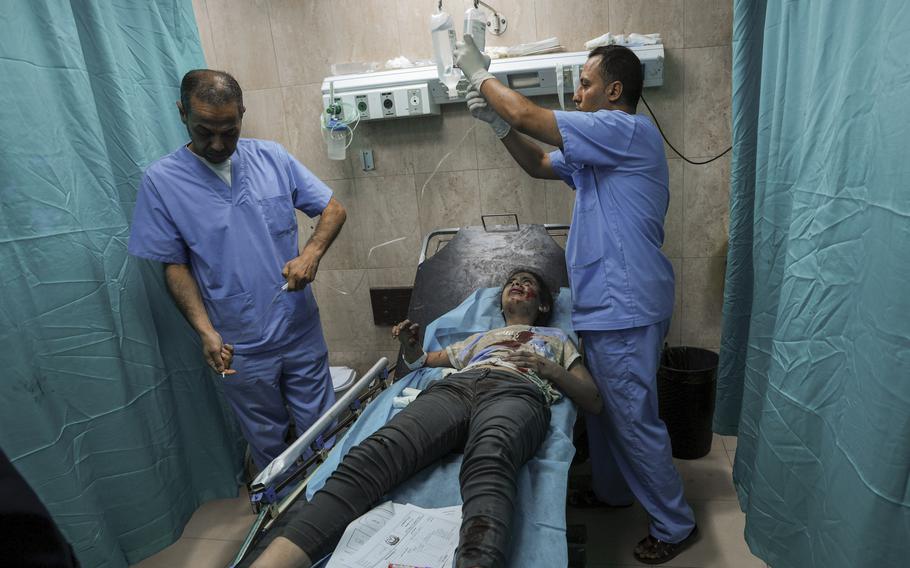 A Palestinian girl wounded during an Israeli airstrike receives medical treatment at al-Aqsa hospital in Deir el-Balah, central Gaza Strip, Sunday, Oct. 15, 2023. (Adel Hana/AP)
---
Segment 1: A Precarious Humanitarian Crisis
Gaza's hospitals, notably the Nasser Hospital and Shifa hospital, are enveloped in a dire situation where basic supplies like fuel and medical essentials are nearing exhaustion. With over 2,450 Palestinians and 1,300 Israelis dead since the hostilities flared, the crisis has unfolded into the deadliest of the five Gaza wars. The situation in Gaza, already grappling with an existing humanitarian crisis due to prior sieges, has plummeted further with shortages of essential commodities like water and medical supplies.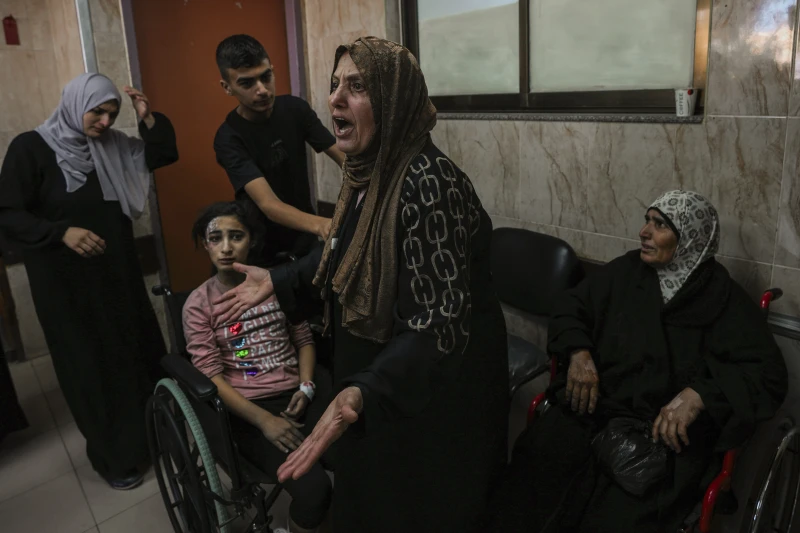 At al-Aqsa hospital in Deir el-Balah, central Gaza Strip, a Palestinian woman reacts next to the wounded during an Israeli airstrike, Sunday, Oct. 15, 2023. (AP Photo/Adel Hana)
---
Segment 2: The U.S. Role Amidst Mounting Tensions
The increasing deployment of U.S. warships in the region and Secretary of State Antony Blinken's frantic diplomatic efforts across six Arab nations highlights a complex geopolitical layer. Balancing acts between supporting ally Israel and mitigating a broader regional conflict draw a multifaceted picture of U.S. involvement and hint at the underlying strategic intricacies in this geopolitical quagmire.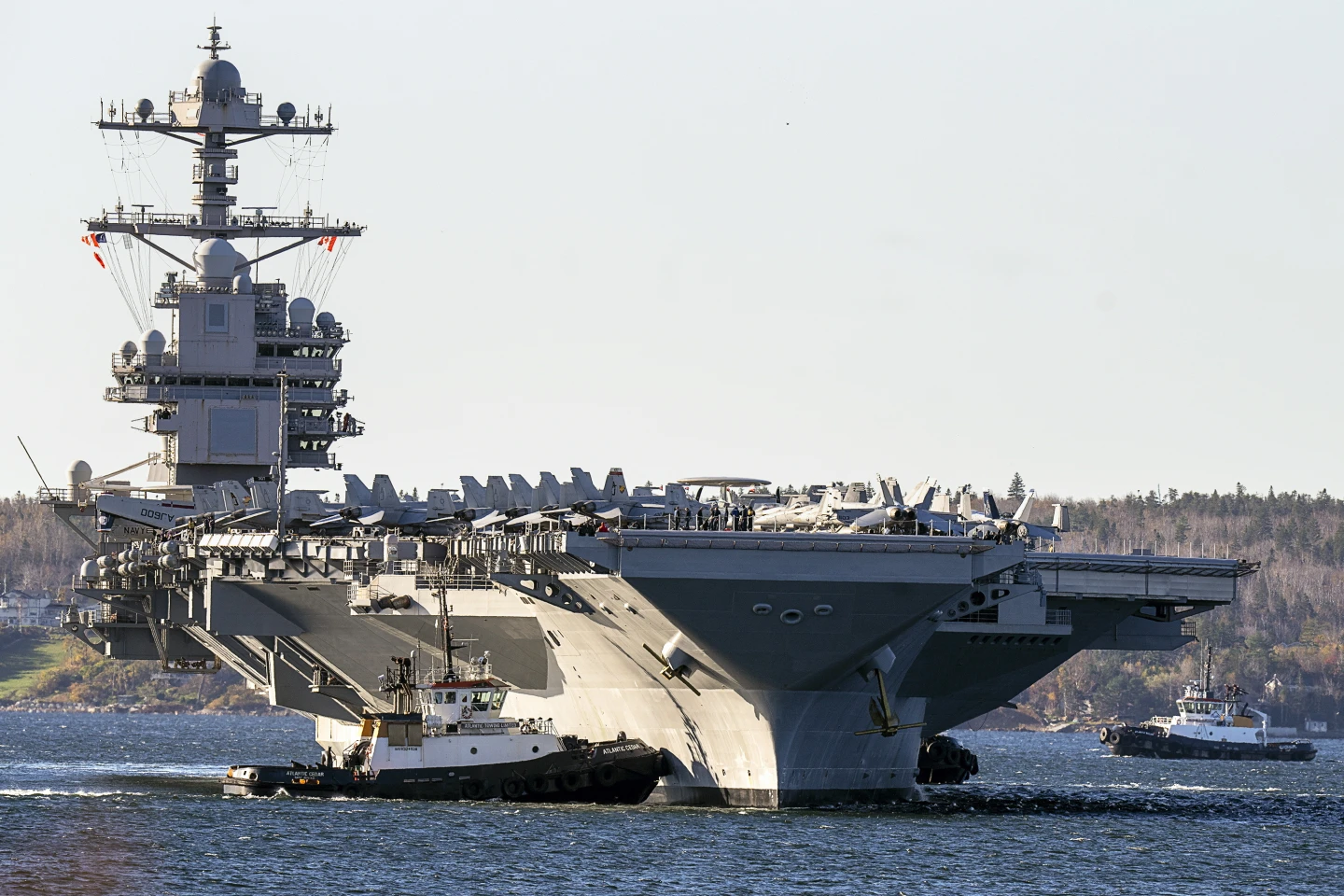 The USS Gerald R Ford, one of the world's largest aircraft carriers, arrives in Halifax on October 28, 2022. The Pentagon has ordered the Ford carrier The USS Gerald R Ford and its approximately 5000 sailors and deck of warplanes will be accompanied by cruisers and destroyers in a show of force that is meant to be ready to respond to anything from possibly. Interdicting additional weapons. From reaching. Hamas and conducting surveillance. Bracket open. (Andrew Vaughan? The Canadian Press via AP, File.)
---
Segment 3: Diverging Paths and Prospects for Peace
Israeli forces, preparing for a sweeping campaign against Hamas, and Palestinian residents, confronting dire circumstances, are locked in a tragic dance of diverging agendas. While Israel is mobilizing for a ground invasion, Gazans, on the other hand, are entwined in a dangerous plight involving displacement, imminent threat to life, and a tragic health crisis, all amidst a ceaseless, tumultuous conflict.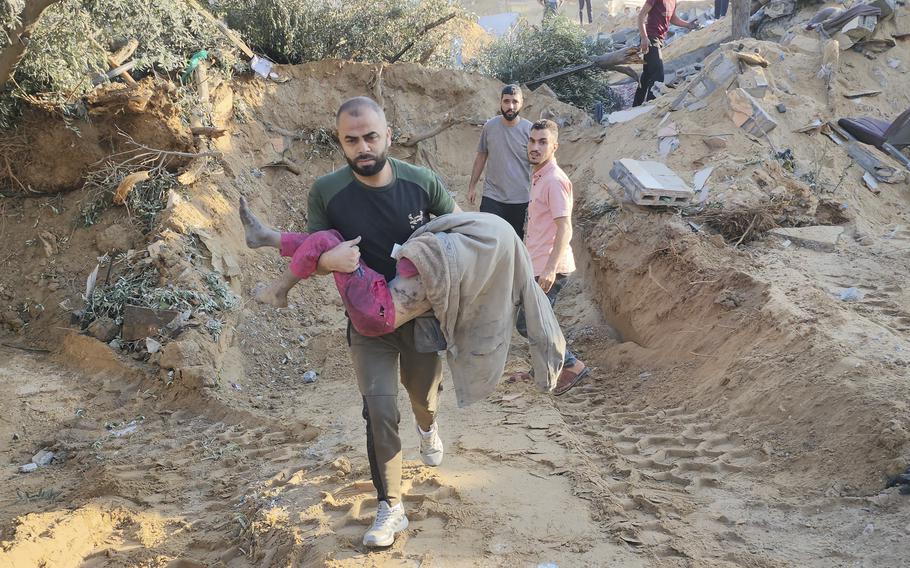 A Palestinian man carries a child killed in Israeli airstrikes in Deir el-Balah Gaza Strip, Sunday, Oct. 15, 2023. (Hasan Islayeh/AP
---
Segment 4: Ripple Effects Across Borders
The broadening sphere of the conflict, notably the escalating violence along Israel's border with Lebanon and involving Hezbollah militants, augments the prevailing danger of a wider regional clash. Simultaneously, international efforts, like the potential reopening of Egypt's Rafah crossing with Gaza for humanitarian aid, reveal a nuanced, challenging chessboard of geopolitical negotiations and alliances.
---
Segment 5: Voices Unheard – The Human Cost of Conflict
Patients, children, and civilians—both Palestinian and Israeli—are bearing the brunt of a war that has thrust them into a maelstrom of fear, loss, and despair. Be it the relatives demanding the release of the captured in Tel Aviv or Gazan residents struggling to find bread and clean water, the voices of those most affected risk being drowned out amidst the cacophony of warfare and politics.
---
The Gaza crisis is a dark testament to the tragic human and geopolitical consequences of conflict, underscored by desperation in hospital wards, the sobs of grieving families, and the silent pleas of children caught in a relentless crossfire. While the geopolitical mechanisms churn, propagating strategies and negotiations, the echoes from the ground, from the hearts and eyes of those lost in the turmoil, usher a vital reminder of the cost of war – a cost that transcends borders, affiliations, and political agendas.
---
Credits:
This blog is inspired by and incorporates information from an article by the Associated Press, originally reported from Khan Younis, Gaza Strip, and Jerusalem, with contributions from Julia Frankel and Amy Teibel in Jerusalem, Abby Sewell in Beirut, and Samy Magdy in Cairo.
Original Article: "Packed Gaza hospitals warn that thousands could die as supplies run low and ground offensive looms," published at 10:34 AM CDT, October 15, 2023.